Here comes another fantastical story about the bright blue label maker I found at the thrift store Saturday. I have decided to do a little Tall Tale every Tuesday about my thrift store favorites. It is so much fun to think of where these items came from and who owned them in a previous life.
Today is Thelma's vibrant blue label maker.
This is not any ordinary label maker. This label maker belonged to The Thelma Louise Pearl. Thelma was an avid collector who lived in the town of Warrandyte. Her little cottage perched atop an unsightly hill, right next to the town dump. Too most this would seem quite dirty and depressing, but Thelma had sort of a different mind set.

Each morning Thelma would wake up, fix some poached eggs, feed her eleven cats, and routinely walk over to the dumpster site before anyone arrived for work.

Did I mention Thelma was a collector? She had a soft spot for anything red. It was the craziest thing, old red shoes, thrown out red bins, red light posts, she even commandeered a bent red stop sign once.

And this is where the labeling began. Use your imagination. A woman who owns eleven cats, a label maker, and a house full of red junk. Oh how delightful. Thanks Thelma, and your wonderful habits.


I found a couple label makers online for super cheap!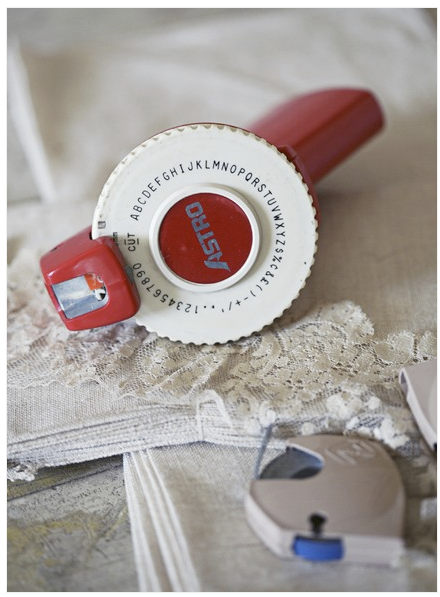 source
I'll share with you what I intend to label.
No boring bookshelves or plastic boxes, food cans or trinket shelves.
I will label oodles of pictures, people, fruit and bed stands.
Maybe even I will label a few paint brushes, or notebooks, picture frames or Baby Ben clocks.
source
source
I bought tape today, and I can't wait to get started.
What would you label if you came across Thelma's label maker?
I am oh so curious.